BREAKIN' HEARTS ALBUM AND TOUR RESCHEDULED DUE TO COVID LOCKDOWN AND ONGOING RESTRICTIONS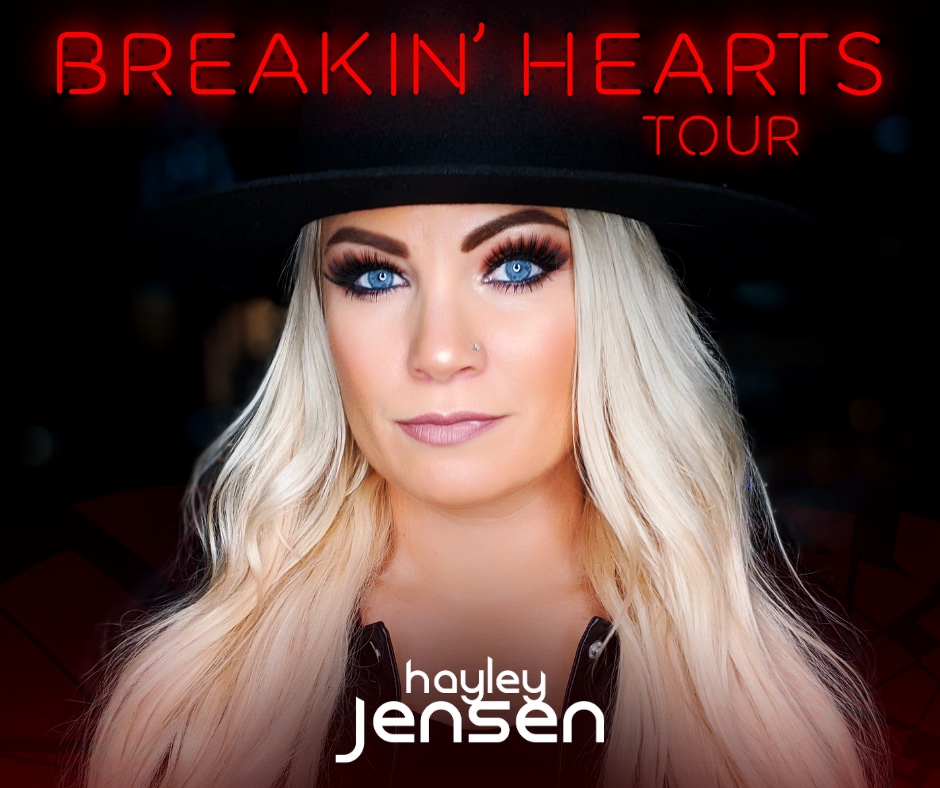 Sydney-based pop-country songstress, Hayley Jensen, was locked and loaded to release her highly anticipated fourth studio album, Breakin' Hearts, on Friday, August 6, accompanied by an extensive run of shows. Due to the current covid lockdown of Sydney, where Hayley resides, the decision has been made to reschedule the tour and album, which is now slated for release on Friday, 22 October.
"My team and I have been working so hard on this new album release for over 2 years and I'm so proud of what we've achieved so far with each of the new singles to be lifted from it. Words can't express how excited I was to be launching the album in August and hitting the road with my biggest tour yet – so much planning had gone into it, but this current COVID-19 outbreak and subsequent lockdown across Greater Sydney has prevented the band and I from even leaving our homes, let alone touring"
"So, we've made the extremely difficult decision to postpone both the album release and the tour until later in the year so that we can give it the incredible launch it deserves and I can share these new songs with my amazing fans and supporters at real live shows! Right now, all I can do is ask that you please pre-order the album and #keepyourtickets tickets so we can celebrate together later in the year!"
Rescheduled tour dates will be officially announced next week & updated ticket links will be available on Hayley's Website Tour Page. Ticket-holders will be contacted by venues once new dates have been secured, and if unable to attend, a refund can be requested. Fans are encouraged to hold onto their tickets, at this stage, with the majority of the shows expected to simply be transferred to the new dates.
Out through indie label Social Family Records, the album is still available to pre-order across digital platforms, with signed CDs available via JB Hi-Fi, Sanity and the Official Store (fans who order from the Store will be eligible to enter a competition to try and win a Merch Pack and Meet & Greet with Hayley).

Jensen has achieved multiple #1's and Top 10's with the singles preceding the new album's release, including #1 iTunes Country and current single, Karma, which was added to 4 curated Apple Music playlists, including 'Today's Country' & 'New Music Daily', and continues to climb country radio charts, currently sitting at #5 (#3 Australian) on The Music Network's Countrytown Hot 50 chart. The other singles include Just Gonna Party, Fireworks, and title track, Breakin' Hearts, which shot up the charts to become the #1 Australian song on the official airplay charts. It was also added to Spotify's 'Fresh Country' playlist, was one of the Top 100 Songs at Canadian Country radio, and one of the most played songs on CBC Country on digital radio across North America.

"The creation of Breakin' Hearts was one of the most hands-on and enjoyable creative experiences of my life," says Hayley. "It was a true labour of love, conceived during a period of global uncertainty and isolation. The production process spanned two continents, three countries, multiple time zones and pushed technology to its limits. Every story told through these songs is charged with emotion and grit – just like me."

After two decades in the industry, Hayley is at an all-time high and has fortified her place as a leading act in the Australian music landscape. What hasn't changed through the years though, is her powerhouse vocals, authentic songwriting, and down to earth nature.
BREAKIN' HEARTS (ALBUM)
TRACK LISTING
Breakin' Hearts
Shot Down
Just Gonna Party
Karma
Better Than That
Four Boots (feat. Clayton Bellamy of The Road Hammers)
Shake My Bones
Rules
Fireworks
Angel (feat. Beccy Cole)

The Breakin' Hearts album is available to pre-order on iTunes and pre-save on streaming sites. Those fans who are after a CD version can order the album from JB Hi-Fi and Sanity and receive a signed album slick, as well as the Official Store, where fans will receive a signed CD and will also be given the opportunity to try and win a Hayley Jensen Merch Pack and meet & greet.