Back To Bacharach tour
Get excited! The Back to Bacharach tour featuring Hayley Jensen is coming up. All event / ticket details on the Back To Bacharach facebook page: https://www.facebook.com/backtobacharach/events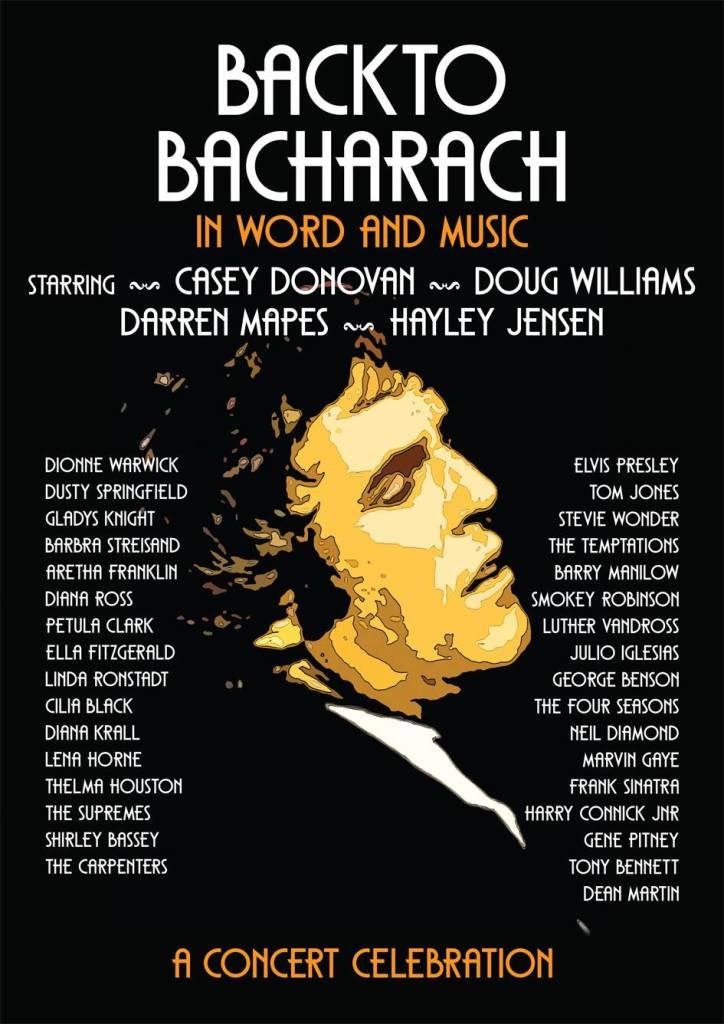 From the Producer of Damn Good Divas, Dusty The Concert, John Waters Looking Through A Glass Onion and Todd McKenney "songs and stories of Peter Allen", Jason Owen and Amber Lawrence, Entertainment Consulting now bring you……
Back to Bacharach is a 2-hour concert celebrating the songs and life of Burt Bacharach, featuring powerhouse entertainer Casey Donovan, the legendary Doug Williams, Australia's leading vocal coach and theatre star Darren Mapes and Top 4 Australian Idol 2004 and The Voice (2014) contestant, Hayley Jensen.
Burt Bacharach is one of the most prolific and successful songwriters of the 20th Century. As a 6 time Grammy and 3 time Academy Award winner, with 73 Top 40 hits in the US, and 52 Top 40 hits in the UK, Burt Bacharach wrote the music for over 700 published songs, which have been recorded by some 2,000 artists – from Frank Sinatra and Elvis Presley to the Beatles and the Supremes.
Along with lyricist Hal David, they were at the forefront of the famous Brill Building in NYC described as "the most important generator of popular songs in the Western world".
At age 85, Burt Bacharach still tours the world to sell out audiences. He himself and his music continue to stand the test of time.
The Concert will feature some of Burt Bacharach's most well known songs by Artists such as Dionne Warwick, Aretha Franklin, Barbra Streisand, Dusty Springfield, The Carpenters, Supremes, Roberta Flack, The Shirelles, Petula Clark of the female songstresses and BJ Thomas, Tom Jones, Christopher Cross, Neil Diamond, The Drifters, Luther Vandross, Herb Alpert, Gene Pitney, Isaac Hayes, Johnny Mathis and Elvis Presley of the male artists.
In this 2 hour show, it's a non-stop hit factory with 26 songs we're all so familiar with such as "I'll Never Fall In Love Again", "That's What Friends Are For", "I Say A Little Prayer", "This Guys In Love With You", "Arthurs Theme", "Heartlight", "There's Always Something There To Remind Me", "What The World Needs Now", "Close To You", "Walk On By" and so many more.